Toro Tamer

®

Rods

Offshore Explorer ® Travel Rod for Trolling and Bait
This proven design is made for fishing 50-80# tackle, and is a 4 piece design featuring a uni-butt for ease of use when trolling. The rods come in a hard case and pack very well measuring 24 inches when in their case.
Offshore Explorer Travel Rods
TORO TAMER Offshore Explorer ® Rods

The new Offshore Explorer rods are finally here! These take off where the previous models left off, and they are the best heavy line travel rod on the market, bar none. These 50-80# class rods offer better strength, greater reliability and actions than any other on the market, and now they come in a hard case that measures only 24 inches! This is the fourth production of the rods, and each time there's refinement. Now the production is being handled through Toro Tamer, LLC rather than CharkBait. These designs have been on the market now since 2010 and have proven their worth with anglers taking impressive catches worldwide.

The Offshore Explorer travel rods feature a Pac Bay "uni-butt" style all aluminum aft sections. Specifically, this is a Pac Bay Channel Lock Aluminum Butt. These trolling oriented stand-up rods are four piece, 6 1/2 feet in length. It's perfect for fishing 50-80# applications. With the Pac Bay butts, they're great for trolling duty. You can drag lures, feathers, lipped divers effortlessly. They feature EVA ringed fore grips for added security and comfort. The guides are rated for Spectra, and the rod's unique gimbaled screw together construction is extremely solid. Unlike other "ferrule" rods, these screw together within a ferrule, so they twice reinforce their strength and proper alignment of these strong and forgiving fiberglass blanks. This unique connection feature also makes it easier to take the rods apart after a long day's fishing. For our most recent production a hard case in included rather than the soft case of previous models, and the rods action has also been improved. You'll notice upon use of the rods that there is no "flat spot" in their action, they bend smoothly through the blank and ferrules and offer excellent performance.

Toro Tamer's new four piece travel rods are sure to be welcomed by the serious angler looking for travel-friendly fishing rods capable of landing larger fish. Fishing from a panga or sportfisher? These rods are perfect for your needs. Finally there's a serious saltwater travel rod that can stand on its own merits as a functional alternative to one-piece designs. And, as far as traveling with a quality rod is concerned, these pack down into their 24 inch case! That's very airline friendly and even fits into most suitcases if you don't want to carry them along onboard the aircraft to stow in the overhead bin.

Compare the components being used, and you'll get the picture. These rods are a value, and there's nothing like them on the market in terms of dealing with larger fish and functional troll duty. Let me restate this, since I've done some homework for you. You can find some heavy tackle offshore custom travel rods, at prices of over $1000. The one's I've seen do not compare favorably to what we are offering with our own Saltwater Travel Rods, which are designed for boat use. If you travel to your fishing destinations or just like being prepared for opportunities to hop on other folks boats, our new saltwater travel rods will be favored companions on any trip offshore. Order yours now!
Offshore Explorer
®
OFFSHORE EXPLORER® 30-60 LB, NANO 5 PIECE TRAVEL ROD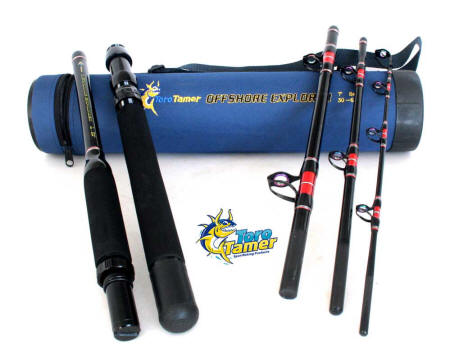 Traveling to great fishing destinations is something most of us dream of doing, and there are many of us to make it a point of achieving. There's only one downside, depending upon having good gear to fish at remote spots can be a big problem. Getting your own gear to those destinations can be a bit of a problem. Airlines don't much care for transporting rods in long tubes. Hmm, perhaps they do care for doing so...at a crazy price! Can be $100 each way, and what about the little crop duster plane that gets you from the big city to the little village...? Thus the motivation for good travel rods.

ToroTamer has been involved in travel rod production for several years now, it's a pet project based upon necessity. Offshore Explorers

®, Surf Explorers® and Inshore Explorer® rods are marketed worldwide and catching notable fish for many very demanding anglers. The new Offshore Nano 30-60 represents another advancement in rod design. Toro Tamer showed off this new rod at several shows this winter: ISE in Sacramento, Fred Hall and Pacific Coast shows.

At ICAST 2014 Toro Tamer introduced a new Offshore Explorer FIVE PIECE travel rod. The new rod is very exciting in construction, design and capability. You've got to feel this rod! For the first time Nano Technology is being applied in a travel rod! The use of Nano resins increases the rods strength dramatically improving long term reliability and capability. You've got to pull on the rod to appreciate it's strength and lightness; for it's typical fishing line test of 40-50 lbs its a very nice piece to own. The new 30-60 Nano Offshore Explorer packs down to only 20 inches!!! When assembled the rod is 7 feet in length.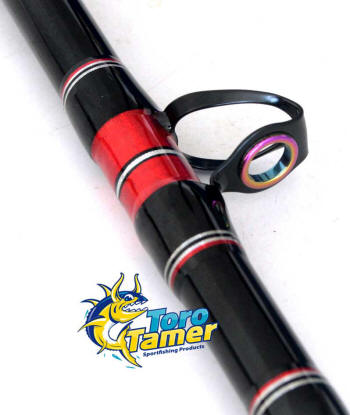 Let's repeat that, here's a seven foot rod that packs at 20 inches, comes in a very nice hard case with rugged fabric cover, makes use of advanced Nano technology and is priced under $300!!! A fellow can take this rod, our 50-80# Offshore Explorer and one of the Surf Explorers and pretty well cover a vacation...and all these rods can fit in an overhead bin on a plane. Heck the Offshore Explorers can fit in a typical suitcase!

We've been showing off the rod at a few shows, demonstrating a prototype, and folks have been very, very impressed with it's unbelievable performance under load. The rod is not perfect, but it's darn close to that for what most of us do in terms of line class and fishing capability. The rod incorporates an aluminum Pac Bay reel seat with double lock down for the reel. One point to mention, given the construction and size of reel seat, not all reels will fit with rod clamp. Some of your smaller reels will not work with their reel clamp, but the vast majority of reels will fit the rod just fine. The metal dual lockdown PacBay seat is robust and strong, all aluminum not a composite or plastic seat. It's robust enough to handle a great deal of stress

. You have the security of the double lock down on the seat so there should be no issues in use. The guides are braid safe, reinforced designed, and of course the rod comes with a very nice hard case for storage and transport.

Surf Explorer ® Travel Rod for Casting
Our Surf Explorer has been updated for 2012. We've expanded the line to three different line tests, an 8-12#, 15-20# and 25-30# class for both spinning and conventional reel use. This is a very light and exotic travel rod for surf fishing enthusiasts. Certainly it has additional applications, but it's made for walking the beach and opportunistic fishing. The rod is a four piece design, using the European Spigot ferrule connections. It's 2.7 meters in length, almost 9 feet, and now comes in a hard case for safe transport and storage. The rod can handle lure weights of 20-100 grams. It's graphite and fiberglass constructed for lightness, sensitivity and long term use. The guides are lightweight, but capable of handling Spectra lines. The handle section is a bit long, in keeping with it's intended application, and you can adjust the positioning of your reel to optimize balance - easily moving the reel forward or back on the rod. It's parabolic action allows it to fish lighter and heavier and still "feel" right, and now you have more choices for the test being fished with the additional light and medium action rods. In the summer of 2013 we will be introducing a new 30-50# Surf Explorer designed for larger gamefish. While we've had several Roosterfish taken on our existing products, even on the original 15-20# class Surf Explorer, this new rod promises to be an exceptional choice for anglers traveling to Panama, Costa Rica, and other destinations known for wonderful surf fishing for tougher fighting gamefish.
Inshore Explorer ® Travel Rod for Casting
Our 3 piece 7'6" Inshore Explorer rods come with a nice travel case. These rods make use of the more traditional blank over blank design. three models in this series to handle lines from 12 to 30 lb tests.
---
Ahi Assassin
- Dedicated Casting & Jigging Rods from Toro Tamer
Ahi Assassin Topwater Rods
Here's another excellent series of rods from the folks who build the Ahi Assassin Jigging rods. The Topwater series rods are made for tossing poppers, and a lot more. Typically popper rods are made for use with spinning reels, but we've also had these produced with conventional guides since many of the larger poppers are quite castable with conventional reels and more of our West Coast clients and long range fishermen have a distinct preference for conventional gear - especially the jig tossers. The other consideration we had in mind was the fact that for our long range clients, traveling with an 8 foot jigstick is getting darn near impossible. Now, consider having a jigstick, with the strength to handle larger grade fish that's both powerful, and transportable. The new Topwater 40 and 50 is just that! You have an eight foot rod that travels like a 6 footer! The Topwater 40 is rated 30-50#, the model 50, 40-80#.
The components used on these rods is first rate, all ALPS, with metal reels seat and gimble too! Like the other Ahi Assassin rods, these are made from both graphite and fiberglass - from tip to butt of the blank. So, there's no transition point on the rod between the materials - no inherent weak point. So, they can fish heavy, and take larger fish. We use 9 guides on the conventionals and 8 on the spinners, and the first guide is reversed on the spinning model to aid in preventing wind knots. The rods come with a sleeve to aid in storage when not being fished.

---
Ahi Assassin
- Dedicated Jigging Rods from Toro Tamer
2015 NANO HELIX AHI ASSASSIN

At the 2014 ICAST show Toro Tamer will be introducing new Nano Helix Ahi Assassin Jigging Rods. The new Nano technology resins incorporated in these rods are at the cutting edge of rod design development. These rods also make use of helix technology in their blank construction, similar in some respects to the much appreciated and profoundly missed Graphite USA rods (aka United Composites). The new Ahi Assassin jigging rods take the Helix feature and build upon that with new Nano resins. Nano Technology resins are ultra-microscopic spheres of silica which bind the carbon fibers (graphite) in the rods. Essentially the resin permeates the graphite fabric, the submicroscopic particles occupy the space between carbon fibers to provide additional support and strength at the molecular level. Modulus increases and compression strength increases, the bond between fibers increases, the flex strength and internal shear strength increases. Strength and durability are enhanced, easily over 2-3 times the strength and impact resistance results, providing you with true state of the art jigging rods which go beyond any rod currently built. These are all made to accommodate conventional reels, spinning versions will become available in the fall of 2014.

To provide a bit more detail in the construction, we use a unique helix technology which is different from the standard scrim process. The standard scrim process uses fiberglass or carbon scrim to give the blanks hoop strength, but our helix technology uses the carbon spiral to support the hoop strength of the blanks. a single carbon spiral (helical or helix) is at the core of the blank. This type of the structure is regarded as the most effective way of maintaining cross section stability during bending, so our carbon helix core will minimize cross sectional deformation during loading, improving power and response. That is a unique characteristic of our Ahi Assassin rods from Toro Tamer.

Now we are also using NANO materials combined with the helix technology, it makes the blanks significantly stronger and as well keeps the blanks out of deformation when they are bent under load - like when you're pulling significant drag on a larger fish.

Because we use the spiral carbon core when making the blanks the tip section is much stronger, especially noticeable for the fine tips. Our unique blank manufacturing process makes our blanks stronger. Traditional rods made out of the scrim materials, show weakness through the cross section, the 'glass or graphite scrim is already broken during the manufacturing! So the only support for the hoop strength is the epoxy resin. That is why a traditionally manufactured graphite or 'glass rod is so easy to break. Combining the carbon helix core and Nano technology results in an incredibly strong rod under all load conditions. That's the key to the Ahi Assassin's incredible strength and performance under load.

Let me provide some background on the Ahi Assassin rods, all the rods we offer are made from Carbon and Fiberglass, but unlike Seeker and Calstar's design, these rods use both carbon and 'glass all the way through the rod's length, but the amount of carbon at the tip is less than the butt. The carbon is reduced consistently from butt to tip, and the glass increases consistently from butt to tip. The Ahi Assassin rod blanks do not stop laying carbon fibre on at a certain point, so there is no strength concentration on the blanks, consistency of material and thereby consistency of action is the goal and it's achieved! The weight of our blanks is very light and the action of our jigging rods is exceptional, the bend is parabolic to help provide your jigs the very best action and to help with the additional stress caused by fishing the newer Spectra and braid lines which have no stretch. The rods action helps in taming a larger grade fish too since there's always pressure on the fish, they don't get a second wind.

To finish these rods, we chose state of the art components from ALPS. The guides are made to deal with Spectra for the life of the rod's use, and the action of the rod will help maintain pressure on a fish instead of creating a break-off from too stiff an action and too little stretch of the super line. The new rods work with you, they work with the jig, and they help you work a fish! All the rods in this series are 6 1/2 feet in length. That's a mid-ground position, some folks preferring a 6 footer for jigging, some liking the flexibility of a 7 footer. At 6 1/2 feet, we can cover both ends well and if you chose to use the rod for fishing bait, so be it, you can cast well and deal well a larger fish given the rod's superb action. The guides selected will deal well with Spectra lines, and in the case of the spinning rod, we reverse the largest guide to help prevent wind knots.

The hypolon is sanded, for a smooth and richer feel. Again, this is something that's not typically done on factory made rods. And there are some nice cosmetic touches you'll notice on these rods upon your inspection. The gimbals are unique ALPS ball style jigging designs.

Jigging rods are rated a bit differently than conventional bait or lure rods. Jigging rods are designed with lure weight a key component of their design. The way the rod bends is critical, it's action with a specific weight lure is a critical part of it's design, of even greater importance than it's test rating. We incorporate both specifications, but please do understand that the most important characteristic of these rods comes from matching them with a particular lure weight rather than line test rating.
Model
Lure
Weight
Nominal
Line Test
(preferred)
Suggested Drag
Setting
Weight Gram
Weight
Ounces
Ahi Assassin 200
200
30-65#
(40-50)
10-15#
320.4
11.3
Ahi Assassin 300
300
65-130#
(60-80)
15-25#
341.0
12.05
Ahi Assassin 400
400
100-200#
(100-150)
20-30+#
346.5
12.22
---
Toro Tamer Nano Helix

New General Purpose Bait & Jig Rods!
2015 NANO HELIX AHI ASSASSIN Boat Rods
This is the newest series of rods in the Ahi Assassin Series of rods from Toro Tamer. These rods were designed for what most folks do on the long range boats, fishing bait and iron on the San Diego based long range boats. Casting is a key part of their typical use and these rods excel at that! Their action differs from the Jigging rods VERY parabolic bend. These rods have a much more progressive action - meaning they are lighter at the tip for flinging a bait but unlike many rods of this type they don't shut off "at the shoulders" or 3/4 of the length of the rod. They have a progressive bend, light at the tip and then gradually providing more lift and backbone through the mid section of the rod. Given the moderate and more predictable bend through the middle area of the rod, they load up very well and are excellent for use with braided lines. They're not as parabolic as the Ahi Assassin jigging rods, so you do have more direct pulling power, whether to set a hook or put some added pressure on a fish to turn it's head your way.

These new rods also incorporate the new Nano Helix design technology, Nano Resins coupled with Helix wrapping of the carbon fiber material. These are some of the strongest rods you'll ever pull on, and their weight is light at their level of strength and backbone. The guides used are triple footed with high quality materials, made for serious pressure, made for the use of the newer braided lines, and with these guides you won't run into catastrophic insert failure with cracks or popped out rings. They are a better quality guide made by Sea Guide, and these are upgraded guides as you'll note immediately upon your inspection. The reel seat is also made by Sea Guide, and it's metal with a dual lock down! The rods also come with a metal (not plastic) gimbal. The components are of high quality and cost, consistent with the advanced technology incorporated in the blank design.

At present there are two rods available in this series, the Topwater 30 and Topwater 50, both seven feet in length. The 30 will fish 20-30 lb lines (10 to 15kg lines), and the 50 will handle 40-60 lb test very nicely (15-24kg) with 40 to 50 being perfection for a person fishing aggressively with appropriate drag settings of 25% to 33% of the line test. Without doubt, these are the finest rods you can buy for under $300. This project was begun mid-summer, noting some changes in production by other suppliers we pushed the factory to produce this series of rods which target the type of fishing we do most out here on our Long Range fleet. If you don't agree upon receiving the rod we'll pay for the rods return - they are exceptional.


Notice the smooth transition at the EVA foam grip to the rod

Dual Lock Down featured on the metal reel seat