Toro Tamer

®

Casting Lures
Toro Tamer Poppers
New for 2015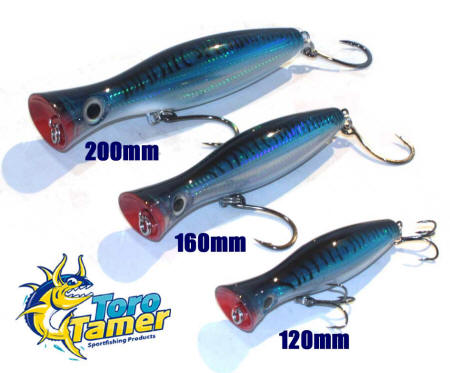 The new Toro Tamer Topwater Poppers are now in stock! This 2015 new product introduction incorporates some excellent new features. These new surface lures improve upon the original design which we had in the line in 2014. The head is round rather than triangular, the results are greater splash - especially if you are fishing from a larger boat which is higher to the water line, such as a long range boat out of San Diego. The improved "pop" or splash allows the lure to be worked more effectively. Additionally, the new lures are available in three sizes 200mm (8"), 160mm (6.3") and a new smaller 120mm size (4.8"). The larger sizes have proven very effective for tuna and the new small size will find great success for those fishing from the beach for Rooster fish, stripers and many other species where a slightly smaller and lighter lure proves effective. Lastly,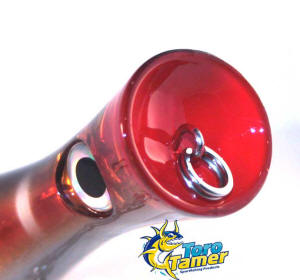 the new lures feature a change in hooks. The two larger size lures incorporate VMC in-line single hooks, the smaller 120 size popper makes use of trebles.

Specifications:
The new poppers are available in three sizes 120, 160 and 200 mm (4.8", 6.3" & 7.9"), with weights of 50, 90 and 150 grams (1.5, 3.2 & 5.3 ounces).

Those are great weights for casting, and the size is wonderful for most fish you'll come across, from little schoolie tuna and tails to some larger fish. There are no better lures out there from any manufacturer in terms of construction and finish. Excellent construction, quality hooks, improved "pop" and thru wire construction combine to create the nicest poppers I think you'll find anywhere from any manufacturer.

Sardine


Skippie


Ahi


Blue Mackerel


Pink Ghost
---
Toro Tamer Metal Swimmers
New Product Introduction for 2015
Toro Tamer's Metal Swimmers are an update of an old lure which we loved, but unfortunately went away. It's based on a old Dymara jig from about 15 years back. The old lure was produced in Poland, came to America by way of Canada. The manufacturer went out of business, could not offer the lures here at a reasonable price. They were a big producer for me personally and that was motivation to create molds for this production. The lure was great for yellowtail, with bass and tuna being among the catches that the lures produced. The largest size also did quite well on wahoo. Here's what makes the lures so darn effective, it's their shape. There are many similar lures on the market, but with closer inspection you can easily see why this design is more productive. They produce more action on the drop. They can be fished on the slide like a standard megabait type jig, but in the cast-and-retrieve mode they are far more effective. They produce an enticing flutter on the drop. The body is thinner, with luminescent belly, and there's a slight curve to the lure. This can be easily increased or decreased by the angler to customize the lures "fall." We've also enhanced the rigging of these wonderful lures. The ToroTamer Metal Swimmer comes with a welded ring on the nose rather than a split ring, and the hooks are upgraded in both quality and size given the target species can be quite a bit bigger than your basic bass or rockfish (which these lures also handle quite nicely).

These excellent lures are available in five sizes and five color patterns. The lures are offered in the following weights: 7, 4.5, 3.6, 2.3 and 1.6 ounces. Lure lengths are: 6", 5", 4.5", 4" and 3.5 inches. We use Mustad 3561ED 3X hooks on all the lures, running a 1/0, 2/0, 3/0, 4/0, and 5/0 on the lures, from smallest to largest sized lure. How do these lures compare to similar products which are on the market? The Toro Tamer Swimmers make use of better and more expensive hooks than similar products, the rigging is better with the welded nose ring - thru wired of course, the lures are triple clear coated so the finish lasts longer, and they catch fish better given the enhanced shape. In summary, this is a lure that no tackle box should be without.

---
Toro Tamer Bucktail Jig
- Cast or Jig

Our 2013 new product introduction, to be shown at ICAST in July, is our new Toro Tamer Bucktail Jig. It's a modest variation on a well proven theme. Jigs like these can be fished as is for great success, but they are also well suited for dressing up a bit. The local whiteseabass guys fish 'em with a fresh dead squid, bassr's sometimes add a soft plastic curly tail grub, rockfish anglers make use of a squid strip, and many halibut fishermen stick on a 'chovie or strip bait. Striped bass fishermen use them as is or dress them up, too. Many approaches, one common thread, they catch their share of fish. We've gone with a fairly traditional head design, nicely angled front and sides, and then added an excellent skirt with the UV reacting "fishskin" material and luminous over skirt on top of the traditional bucktail. The jigs are available in red/white, blue/white, pure white and glow luminescent finish. The hooks are another thing that differentiates these jigs from others, they feature a very good quality, super strong stainless steel hook. The jigs are 1 1/2, 2, 3 and 4 ounces in weight. Prices range from approximately $4 to $6.

---
Toro Tamer
®
Wounded Swimmer
Excellent Lures for Wahoo & Tuna!
The new version of our popular Wounded Swimmer is into it's second generation. This lure was based upon an old SPRO design which was discontinued a few years back. Then, it was a general purpose lure, mostly popular in the smaller sizes. But, upon it being discontinued we made a large purchase and one of our clients discovered it's strength as a wahoo lure. Based upon his experience (goes by the nickname Planet, a PhD teaching and researching now at a CA university between fishing trips), we brought the piece back as a CharkBait lure a couple years ago in two large sizes and it did very, very well for wahoo, yellowfin tuna and yellowtail (among other species). It did extraordinarily well for the "skins." In this update we've continued with the improvements made before, and added something for the guys targeting larger, harder pulling fish like tuna and wahoo. Now the lures have a ball bearing swivel as the attachment point for the hook, and we've added an oversized welded ring at the nose instead of the split ring for even better action from the lure. Both improvements will provide anglers with a better performance, and our thru wire construction and less brittle body (than the old SPRO) means the lure can survive longer in the real world encounters with a hard gelcoat on a boat without catastrophic cracking. It can happen, but it takes far more punishment than the old SPRO did, and we've made it a better lure for catching wahoo and tuna.

Yep, we made a better mousetrap - make that fish trap. We have made the lures five productive colors, two sizes, 150 and 100 gram weights, 6 1/4 & 5 1/2 inches respectively.. They have a very nice curve which provides some added action on the retrieve, and upon the drop mimics a stunned bait as it drops in a flutter. The lures are exceptional, and all the colors are excellent in attracting attention from the targeted species. The big eyes also add to their realistic appearance and attention getting, fish attracting performance. These are some of the best wahoo and tuna lures you'll find. They can be fished on the slide as well as cast and retrieve mode. The price went up a tad from the earlier production, but the value is in the upgrade lures without a doubt. Both the new hook, welded ring and swivel will make these lures even better than their predecessor, and those were darn good lures with lots of fish to their credit.
| | |
| --- | --- |
| Purple Back | Blue Back |
| Mackerel | Pink Back |

---

Toro Tamer Wahoo Ripper
- Cast and Rip Bait For Wahoo and more...

For 2012 the Wahoo Ripper will be a Toro Tamer product line. For this production we've introduced a couple of changes from our first generation product. The new lures feature a larger welded ring so there's more swing to the jig. We've upgraded the hook, which was already excellent on this product. And, the prism tape is applied to both sides of the lure and is non-graduated. These are the changes, but some things stayed the same. Lure weight is still 125 and 200 grams, in both chrome and gold. They are still made from solid BRASS so they drop fast and are super strong. Here's the downside, the cost of brass is what put the larger 5 and 7 ounce Krocodile spoons out of production - those lures would have ended up costing $30 or more...at dealer cost, given the price of the brass. Our new production carried a higher cost too based upon raw materials. There's a reason we don't go to steel for the product, it's not as good. The lures need to be produced from brass - just like the Krocs. So, price on the new ones is a bit higher, but also understand it's the only game in town. This is probably the same reasoning effecting the production of Raider Jigs, which these products are in part based upon. They've not produced in 2 years time. Since we are factory direct we can hold prices down better, but in the case of the increase in raw material charges even with our efficiencies and direct marketing these are not inexpensive jigs. If they weren't such a basic staple on the long range scene we might have given up too. But, the fact is, these are a go-to bait for wahoo, arguable the best jig ever made for the 'hoo.

Images: left Chrome and Gold finish, below sizes at 125 and 200 gm, $14.99 and $18.99 respectively.