New for 2022 and beyond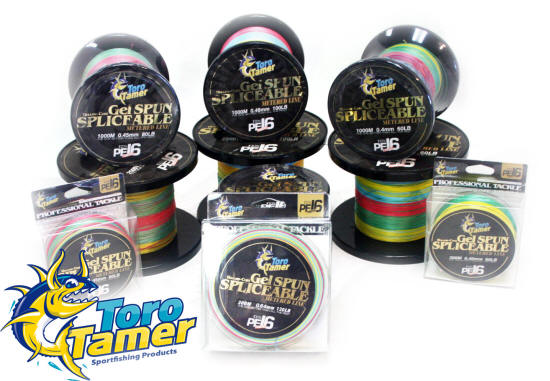 Toro introduced new hollowcore Depth Counter lines in 60/80/100/130 lb tests. These introductions complement our 8 strand "solid" depth counter lines from 30 to 100 lb tests. With the popularity and effectiveness of deepwater jigging for tuna it was natural for Toro to roll out the new lines. As the benefits of inline rigging become more well known, we heard from fishermen who wanted this feature. Toro's unique coloring process used in manufacture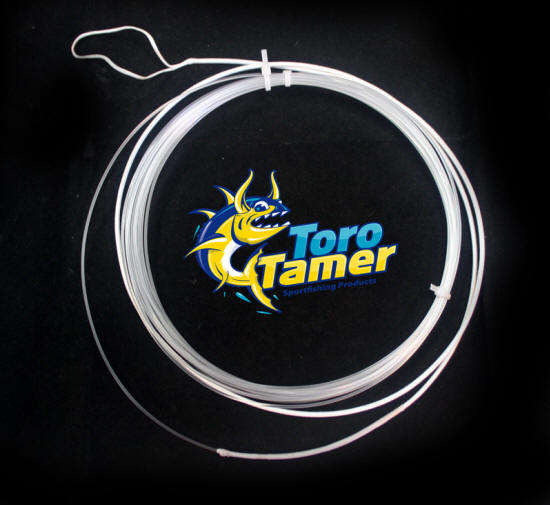 aids greatly in holding color better than many other lines,
and like the standard white and hi-vis lines from Toro, the new Depth Counter is VERY easy to work with, it opens up beautifully.
Taking things further, Toro introduced WIND-ON LEADERS in 2022 for anglers who have learned their benefits but have not made the leap to make these themselves. The new leaders are available in 60/80/100/130 and 200 lb test, all fluorocarbon, approximately 25 feet in length .
---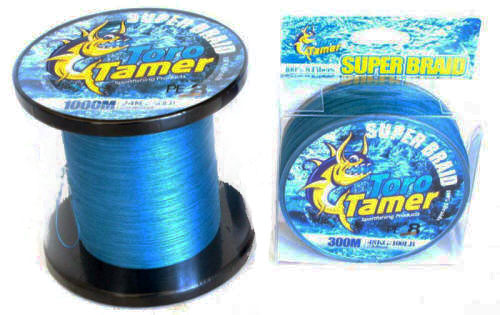 At ICAST 2016 Toro introduced new 4 and 8 strand lines in deep dark green, and added 8 strand in offshore blue. The four strand is an economical long lasting line. The eight strand provides a smoother, rounder line which offers enhanced casting properties, is nicer on the fingers and guides. The four strand is a bit more coarse, great for a "kelp cutter rig" while the eight strand is exceptionally smooth. Toro's coloring process is different from the norm, you'll find that the color holds up better/longer than competing lines.
Press Release August 1, 2015
Toro Tamer has been appointed USA distributor for ESCA lights.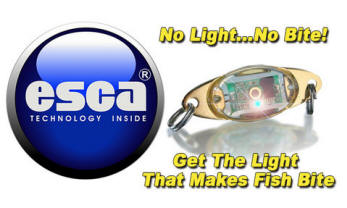 These unique products have been away from the American market for four years. They are back! ESCA's "salt water powered" lights are unique in the industry, winning several international awards for their effective and unique designs. ESCA lights are available in four forms, blinking and fading in both green and blue. ESCA also produces two accessory lure kits which work in conjunction with the lights. More information regarding ESCA lights is available at esca-usa.com
Esca Global Corporation aims to be the leading company in the development, production and distribution of technology using simulated biological light waves. Our products and our technology will be developed both for hobby fishermen, sports fishermen and for the commercial fishing market.
If you have been trying to find these wonderful fish attracting lights, your search is almost over. Let your favorite tackle shop know that the ESCA lights are available through Toro Tamer. Dealer enquiries very much welcomed. ESCA products are now available, locally warehoused and supplied, in the United States.
ESCA-USA can be contacted via email: ESCA Information
---
ICAST INTRODUCTIONS
2015 Product Introductions
Thank you for visiting us at ICAST 2015. At this year's show we introduced our full line of braid rigging needles, reverse latch, loop and threading needle products. Additionally our new Super Braided lines in high vis form, several new lures and a preview of a new series of travel rods were displayed at the show.
Toro Tamer introduced sportfishing's first 20# and 30# 16 Strand Spliceable Braid at the 2013 ICAST show in Las Vegas. This new product offers both fresh and saltwater anglers all the benefits of virtual 100% knot strength...since there is no knot, there's no potential of line cutting into itself. Greater strength, stealthier presentations, and better casting.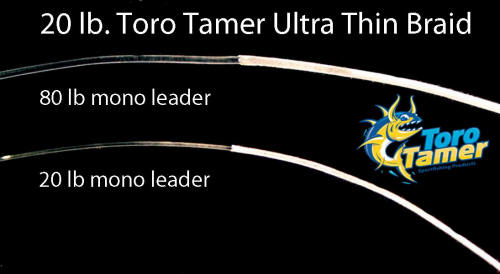 Our 20# Spliceable Braid accepts a wide range of leaders as the image above demonstrates.
Frankly, ToroTamer's 20# 16 Strand opens up better for easier rigging than most competing firms 60# line.
With a bit of work, meaning use of an extra small loop needle, you can load 80# leader into our 20# braid!
Try duplicating this on any other manufacturers 40 or 50 lb line - Toro's Ultra Thin Spliceable lines
are indeed the easiest on the market to work with for in-line rigging.